Curls, waves, swirls or just curls – they're unusual, colourful and almost always very unruly. What's the best way to style curly hair and what products to use? We follow the latest trends with L'Oréal Professionnel brand expert Elena Komissarova.
Women's curly hairstyles for a curly face
Curly hair draws attention to both its strengths and weaknesses. If your face isn't a classic shape, you want to think carefully about which hairstyle fits your personality.
For a round or wide face
A round face requires visual elongation. Facial contours can be made bigger with cuts that are as simple as bobbing and cascading.
For a round or wide face it is best to keep it flat and without parting it in a straight line.
For elongated (long) faces
The purpose of haircuts for elongated faces is to visually extend the oval and balance out the features. Medium length haircuts do a better job. Hiding a sharp chin and elongated forehead can help lengthen the bob or braids.
Important! Long hair will look good if you choose a cascade haircut.
For a triangular face
Reduce the difference between the very wide cheekbones, forehead and chin can help bob, carriage and Garson, as well as all kinds of cascading haircuts for medium and long hair.
The general rule is: the curlier your hair, the better the results. If you're the owner of a slight wave, opt for lush hairstyles.
For a square face
To elongate your face and soften the shape of your cheekbones, opt for asymmetrical and layered cuts: for example, an asymmetrical bob or a curly pixie version, which creates a round shape with more volume on top.
Creative haircuts for curly hair: A look at some of the best bob hairstyles on the market
Curly hair is both a gift and a curse. It requires meticulous care and a huge arsenal of cosmetics. But one style lasts for several days and you are always feminine and charming. The number of beautiful hairstyles for curly hair has already surpassed a hundred. We've handpicked the best ones and show you how to make them.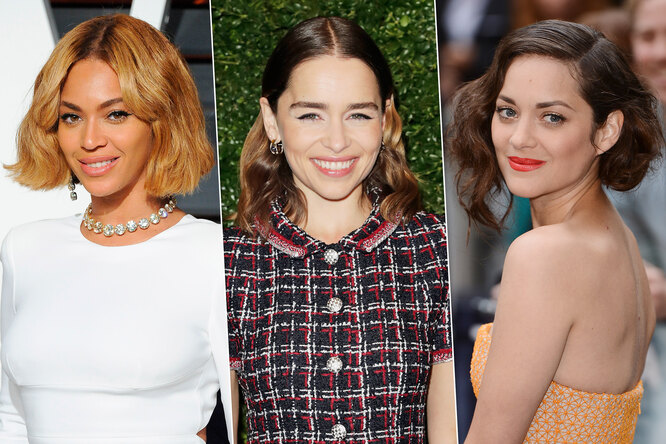 Trendy hairstyles for curls in different lengths, popular in 2021
Here are the trendiest haircuts for curly haired girls.
There's a common perception that curly hairstyles don't have much of a choice. We're here to prove that's not the case. There's a great variety of curly haircuts for women and the textured curls can make your hair look even more stylish and fun.
Medium haircuts for curly hair
Medium haircuts on curly hair for women are lightweight, airy and give their owner a playful and slightly casual look, which is exactly what is at the top of the trends today.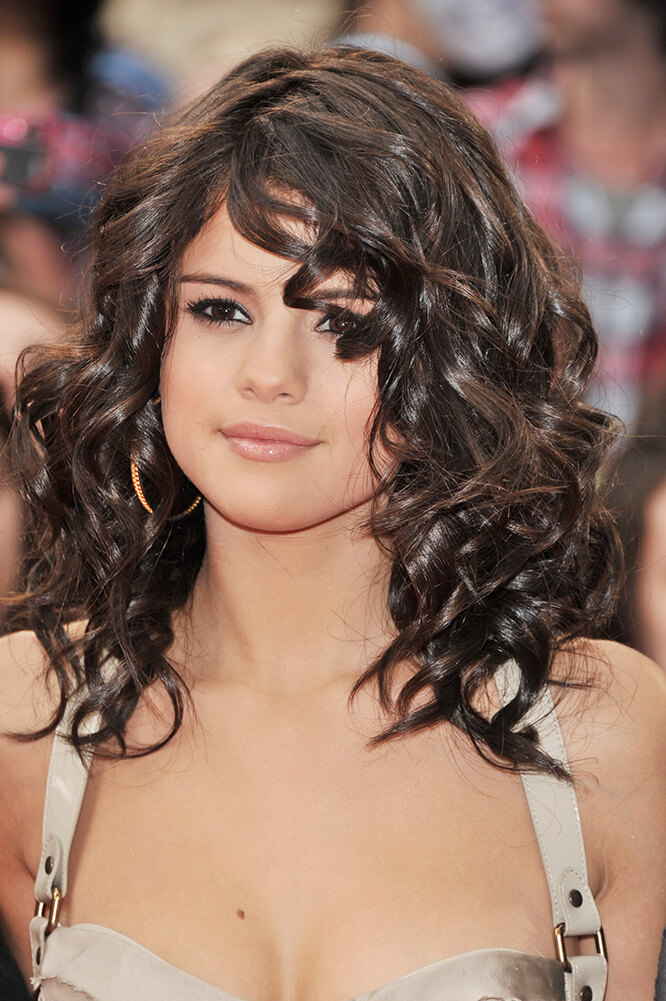 A mid-length curly cut gives your hair a light and airy feel
Cascade
Cascades are one of the most popular medium length haircuts for curly hair. It is a great choice for those who want to tame the curls. Cascade hairstyles can be beautifully teamed with fringes like Selena Gomez. This is a very feminine and elegant option, which stylists consider the benchmark for medium haircuts for curly hair.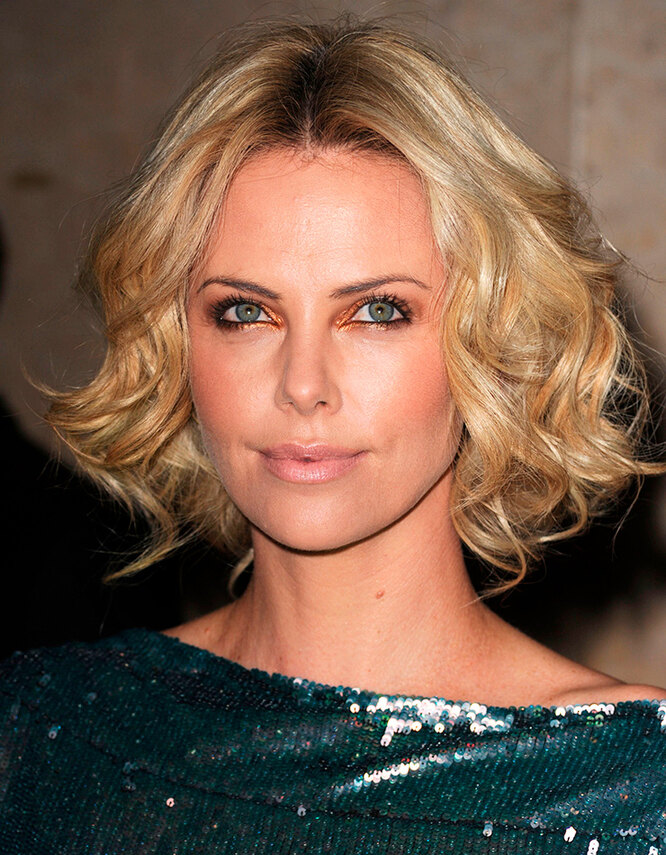 Cascade curls combine beautifully with fringes
Long bob
The medium length bob is voluminous and highlights the beauty of the curls. It is typically worn without fringes for curly or frizzy hair. If your curls are naughty and tugging at the hairstyle, stylists suggest to get a graduation, which will help give the haircut a neater look.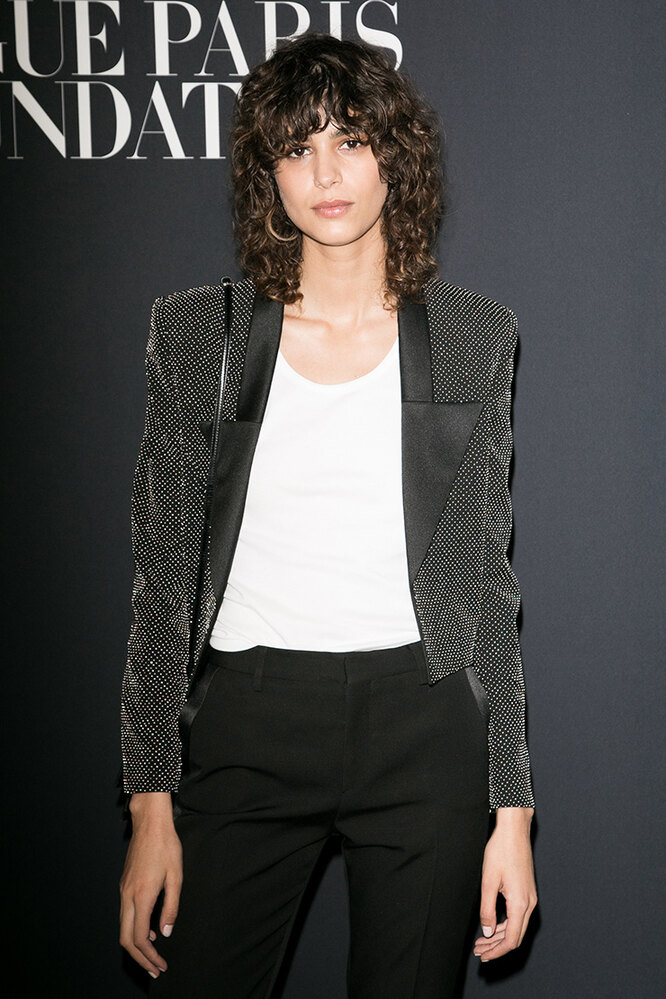 Typically, this haircut for curly and frizzy hair, "elongated bob" is worn without fringes
"Aurora."
The medium cut of curly hair, romantically titled Aurora, creates an elegant form that looks light and airy through the fine filigree of the ends. The layered technique emphasises the curl texture and allows for minimal styling. It can be cut with or without fringes.
Short cuts for curly and frizzy hair
Short haircuts on curly hair for women can be incredibly sophisticated. Check out actress Audrey Tautou; her iconic hairstyle is the epitome of sleek French style. With the right short haircut for curly hair, you're bound to draw lots of compliments.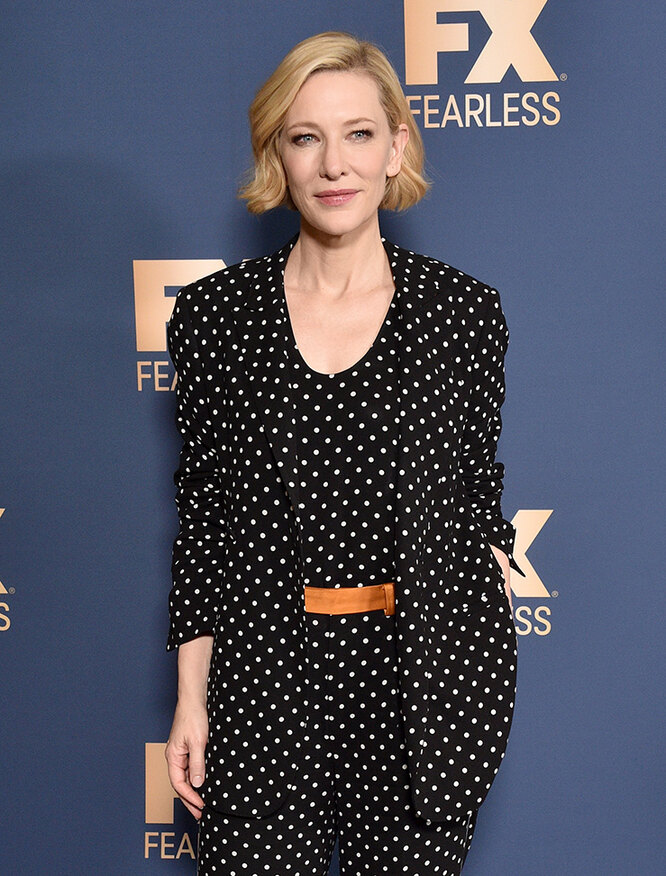 Haircuts for short, curly hair can be incredibly elegant
Bob
A short bob is perfect for women with an oval or triangular face like Cate Blanchett. If you have a round face or large features, opt for an asymmetrical bob. In general, this women's haircut for curly hair has a lot of versions. Experiment! The main rule is to regularly correct the shape of the growing bob, otherwise it will lose its charm.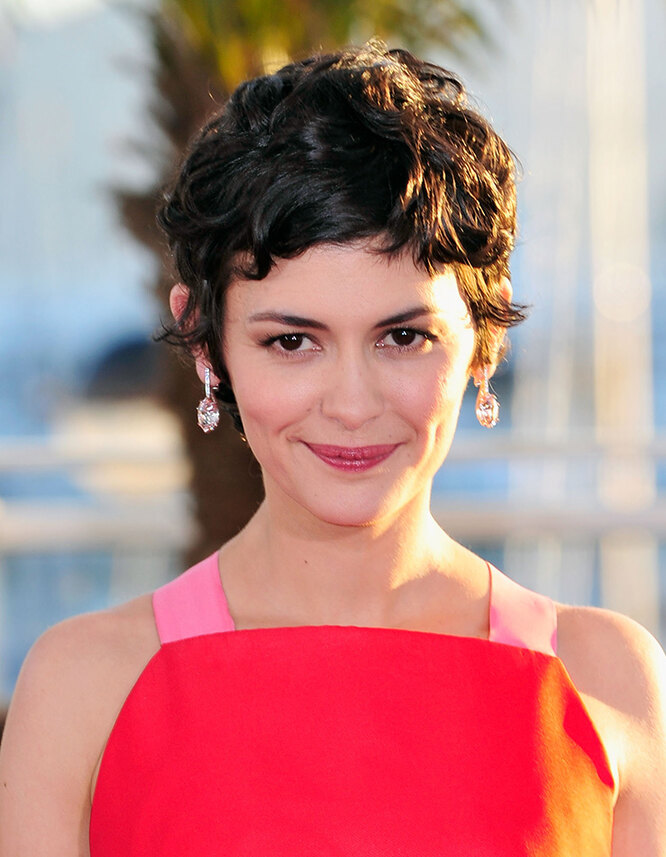 Audrey Tautou created a trend with her short curly haircut that's still popular today
"Garçon."
Fragile girls look stylish and harmonious with the haircut for curly hair "Garson". It is best for those who have slightly wavy hair. It is characterized by its rounded shape, the presence of fillets and fringes.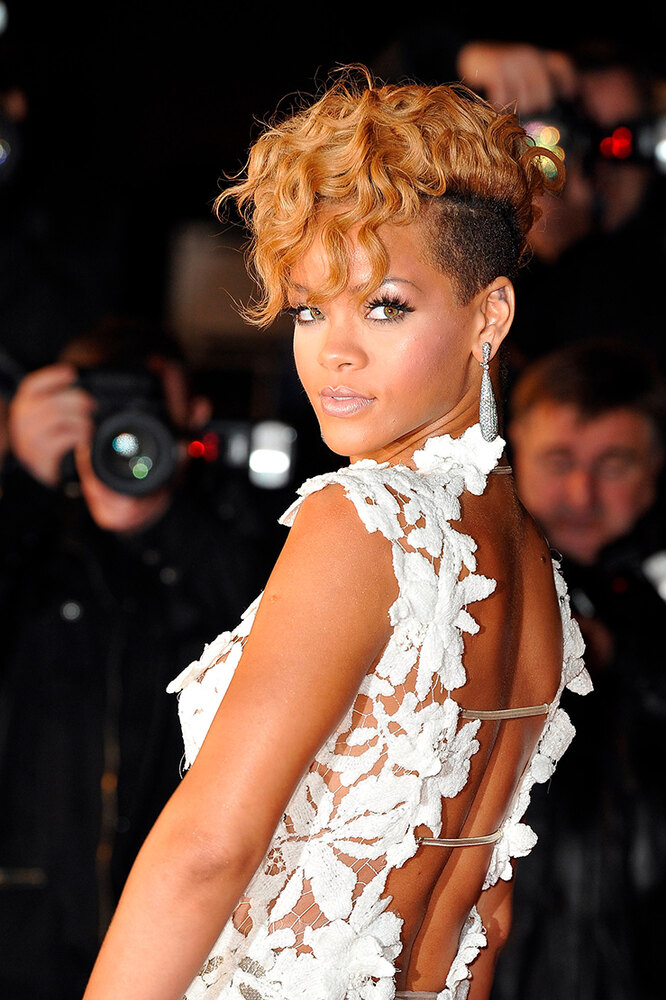 The short, curly hairstyle is best for those with slightly wavy hair
Cuts with shaved temples
A bold and daring option for the edgy type. Rihanna wears it on her curly hair and she knows what's trendy. Opt for this cut if you have an oval or jawline face. A curly hairstyle for women with shaved temples and back of the head is the best way to show off your personality.
Styling for curly hair
Taming curls can be tricky. Curly hair usually needs products that texture the curls to make them crisp and bouncy.
Since curly hair is porous and rigid in texture, consider curly shampoos that replenish keratin and moisture. Hair will then be shiny, flexible and manageable. Volume shampoos are an absolute taboo.
When styling curly hair with a hair dryer, use a diffuser attachment. Don't neglect thermal sprays, creams and oils. Styling products can be great with curl mousse or if you want to get some tighter curls, get a smoothing cream, leave-in conditioner or serum.
If you want more care tips, read our beauty guide on how to handle curly and frizzy hair
Women's haircuts with fringes for curly hair
Bangs of all stripes for summer 2021 are claiming the title of the biggest hair trend. That's why we've gathered for you photos of women's curly haircuts with this stylish detail.
Pin-up glamour like Kerry Washington
A haircut for long curls goes well with fringes and a bright makeup
Kerry Washington's styling in this photo references retro style, but the haircut itself is much more versatile. Long fringes can be styled in a number of ways: pulled back to the eyebrows, flared on both sides or curled. If you want to go for an actress look, curl your locks with a curling iron, part them in a side parting and flatten and slightly side-swept fringes. Don't forget to generously apply thermal protection, volume mousse and hair gloss. Such a hairstyle will go perfectly with arrows on the eyes and dress in lingerie style.
Curly and wavy hair requires special care. The structure of these curls is porous and prone to excessive dryness, splitting and breakage. Hairstylists have five important rules that can help keep your hair healthy and manageable:
Don't wash your head too often. Washing once every two or three days will suffice.
Opt for a gentle, sulphate-free shampoo and don't forget a conditioner to help with detangling. Almost every brand now offers a range of products designed specifically for curly hair.
Use a wooden comb with a coarse-toothed comb to minimise any irritation.
At least once a week, make a nourishing oil mask. These can be ready-made or homemade based on coconut, castor, burdock and other oils.
Try to dry your hair on a cool regime and never go to bed with a wet head.
With baby fringes like Zendeja's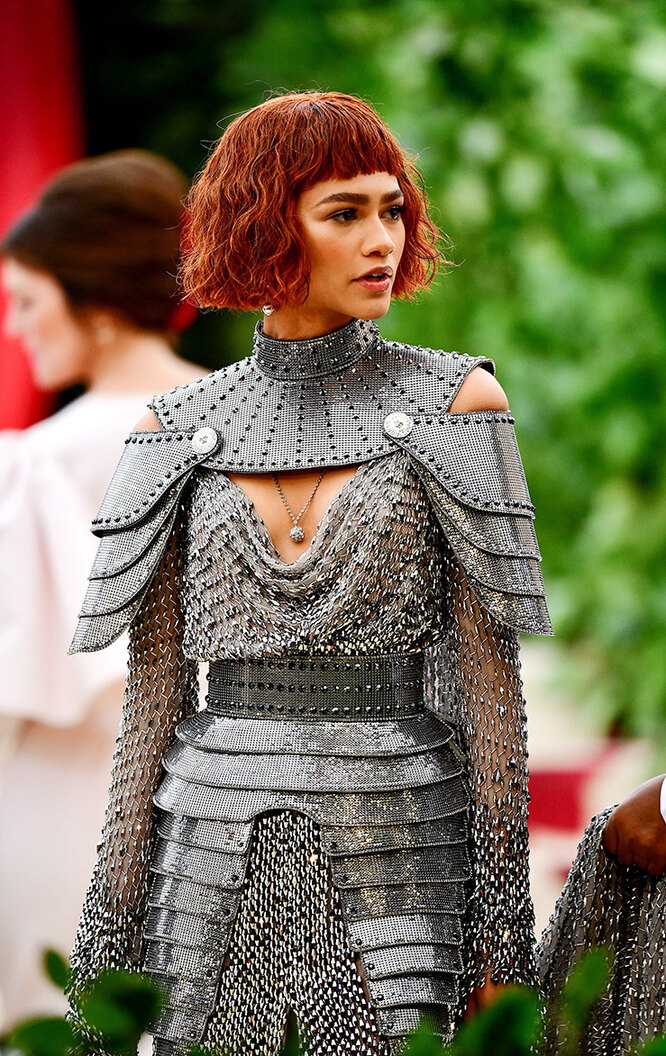 Zendeja's heart-shaped face goes perfectly with a haircut with short fringes
A mid-cut with medium to thick and wavy curls like the singer Zendeja's has one of this season's most trendy fringes, the baby bang. It gives a quiff that is cute and stylish at the same time but is not suitable for everyone. First of all, girls with an oval or elongated face should look at short fringes. On a round face it will look disproportionate.
If you decide to cut fringes, it is worth to correct the hair care:
Bangs tend to get dirty more quickly, as they're in line with the face. Sebum produced by the skin also accumulates on the fringes. Therefore you should wash them daily. You can also use dry shampoo to keep your bangs looking fresh throughout the day.
Fringes can be styled with a round brush and blow-dryer, straightened with a flat iron or curled with a curling iron. Make sure you apply a thermal protectant before styling your bangs.
Bangs need to be trimmed regularly as they grow out to give them a neat and shapely appearance.
Shag haircut like Micky Arganaraz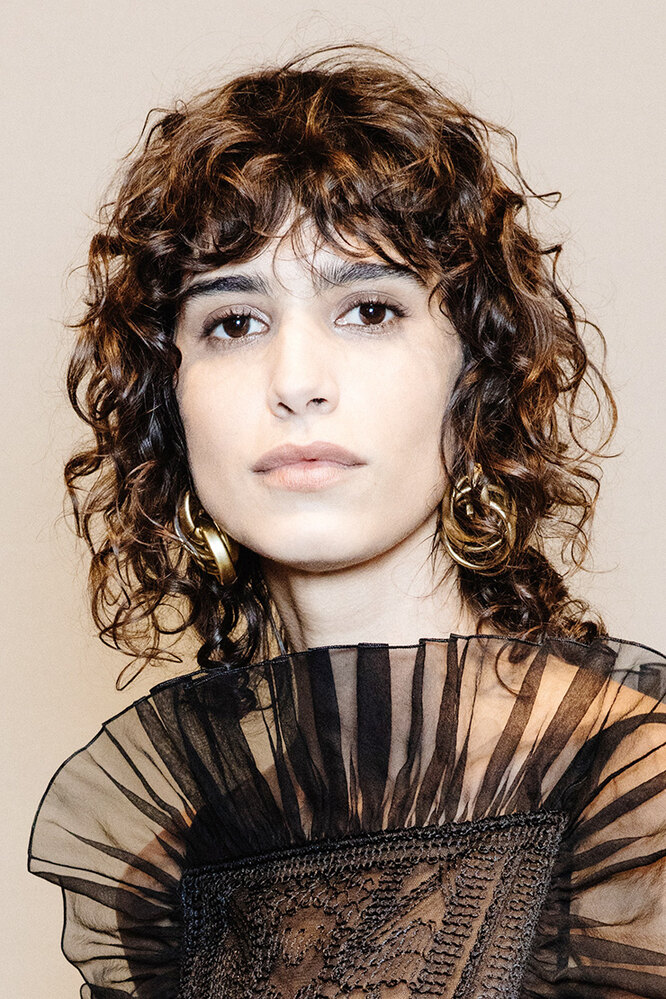 Mika Arganaraz remains true to her recognisable curly haircut
Top model Mika Arganaraz has thrived in her career thanks to her memorable image which features a "shaggy" hairstyle. It is a messy, medium-length wavy fringes cut in layers and tapered at the ends. Because of this technique the hairstyle looks airy and will look great on fine hair.
In order for the haircut to make the right impression, it needs proper styling – it can be done with texturizing products: spray with sea salt, products for volume, dry shampoo. And don't forget to spray hair spray on the tousled curls.
A bob with slanted fringes like Jessica Chastain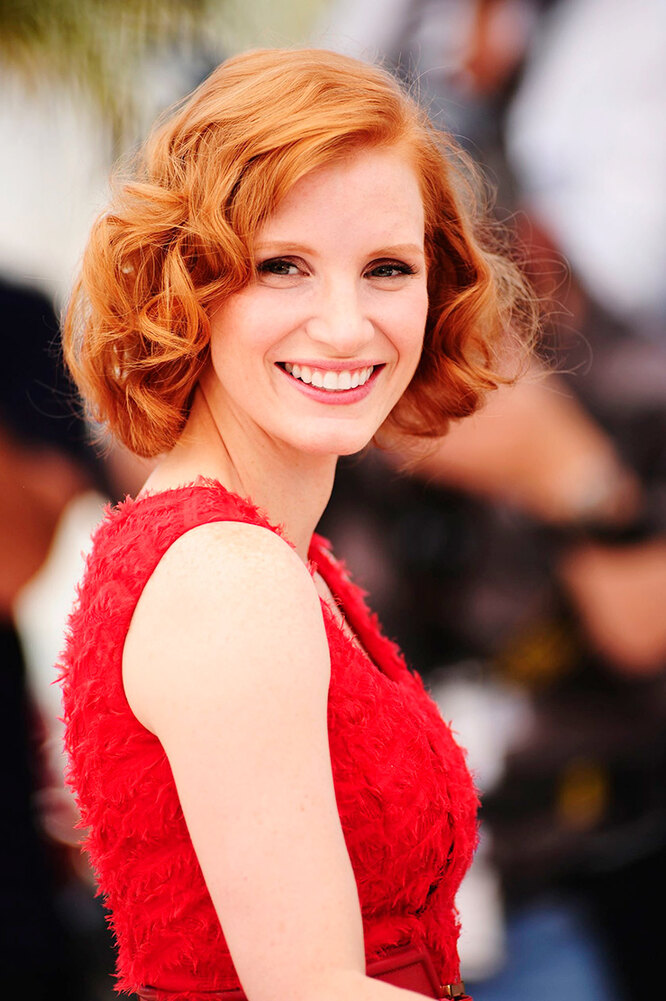 A bob is the ultimate bob for wavy hair
Jessica Chastain is true to her signature red hair colour, but she doesn't mind experimenting with haircuts – you can see a bob on curly hair in this photo, for instance. The actress' stylist usually curls her long oblique fringes and styles them sideways, blending them with the rest of her hair. Such a haircut suits any face shape and looks very elegant.
Peugee in a new way by Edie Campbell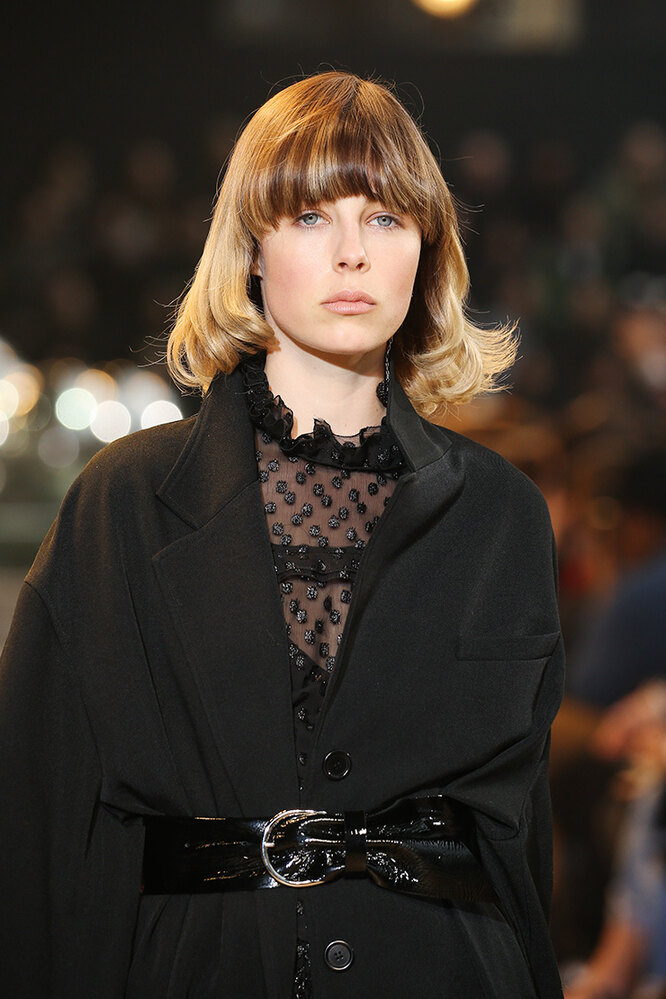 Curled ends make the cut of the page cutter look quintessential
Top model and Saint Laurent Paris muse Edie Campbell wears a different haircut, but one that caught our eye is the paget-style cut. At one of the fashion shows, the stylist curled the ends of the model's hair and arranged the fringes on a brushing towards the face. It's almost as if the stylist had created a pajege for curly hair
French haircut like Juliette Binoche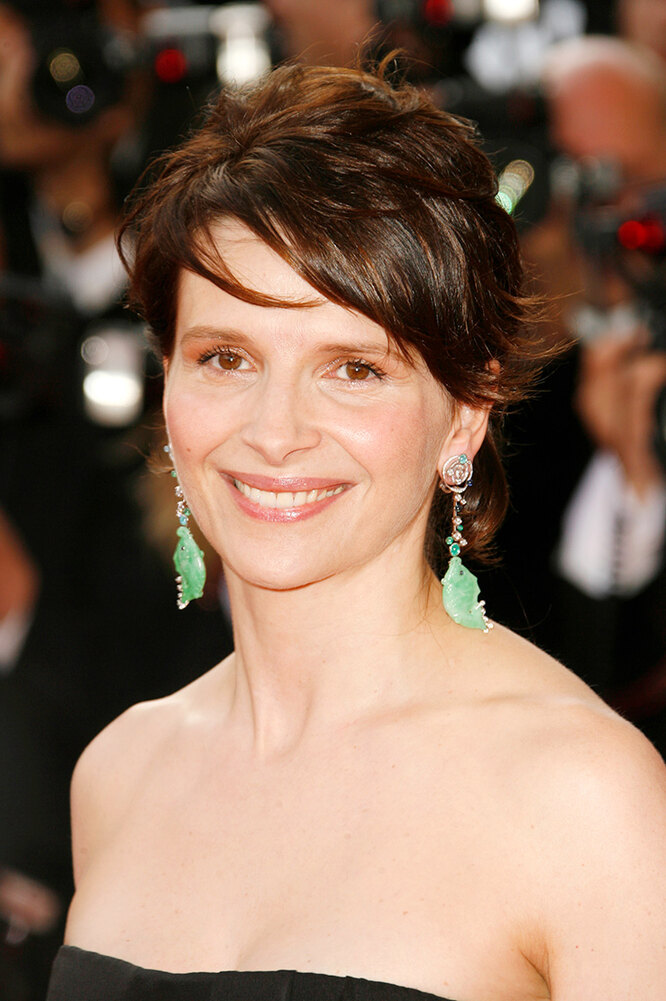 French cuts help visually lighten up thick, curly hair
The French cut to curly hair with fringes is a ripping technique that makes the hairstyle look light, voluminous and airy. This shape allows you to correct the shape of the face. For example, it can make a big nose look smaller or make a round face look shapely. A short haircut that's just above the ears, like the actress Juliette Binoche's, is incredibly elegant and utterly chic.
Styling it can be done in five simple steps:
Begin by blow drying the hair partially and then apply a heat protectant.
Next, work the hair into a curly mousse. You can also use a volumizer foam if you have wavy hair without curls.
Blow-dry hair strands in different directions to create a tousled effect. Lightly curl the ends inwards.
Lay mop on a round brush to give volume.
Flatten fringes and the front part of your hair, pulling it in with a flat-bristled brush.
Fix the resulting style with a medium-fixing spray.
Cuts for curly hair without fringes
Not everyone is willing to give up some of the length to cut fringes. Luckily, there are some great haircuts for stiff and curly hair that don't require this kind of sacrifice.
A slightly wavy bob, like Beyoncé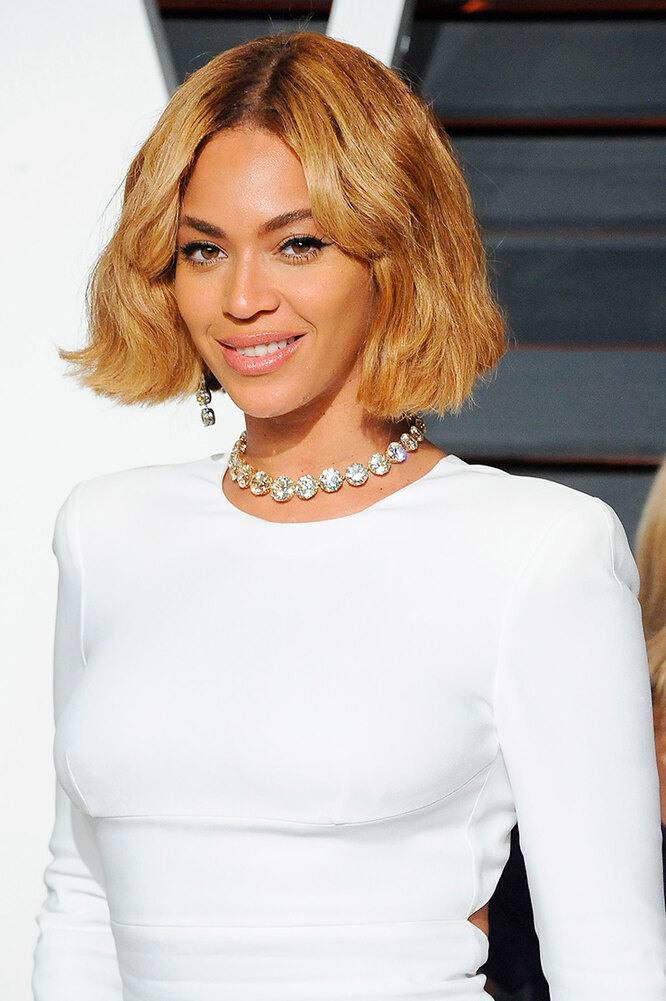 A little wavy is a great style for a bob
Beyonce's usual style we're used to is long hair, but the diva couldn't pass up such a sleek and stylish feminine bob haircut for curly hair. To create this look, the stylist straightened the singer's hair and then formed a slightly noticeable wave. The honey-coloured hair beautifully highlights Beyoncé's warm skin tone and gives the hairstyle a visual volume.
Cascade on medium hair like Olga Kurylenko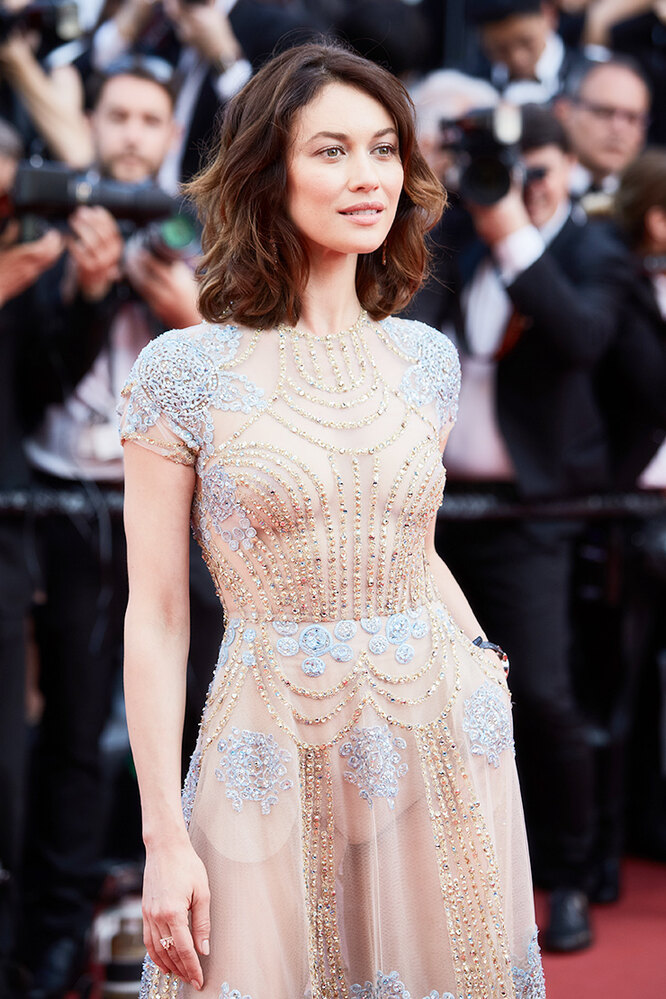 With a cascade on wavy hair you can do absolutely different styles
The actress is quite conservative when it comes to hairstyles, so she chose a calm and feminine haircut on wavy medium-length hair. It is a classic cascade, styled with large natural curls. The colouring with a slight ombré and the use of natural tones accentuates the texture of the style, giving the hair volume and vibrancy.
A smooth cut, like on Jenjouarie Jones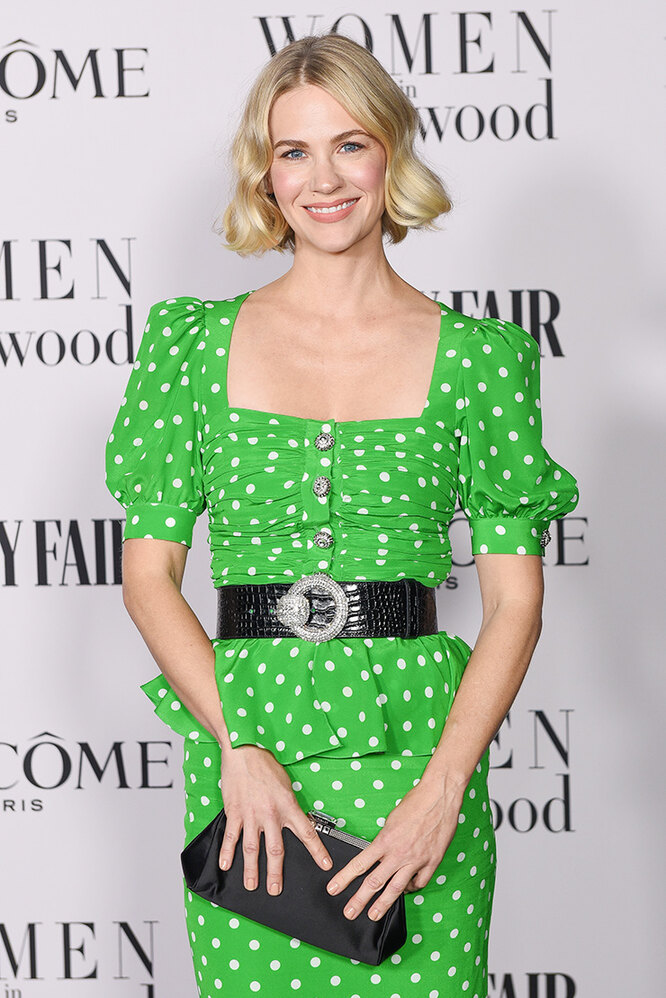 The Straight Cut is not only for girls with straight hair
The straight cut is often recommended for girls with a lot of hair. It can be a straight cut, but if it cuts their hair that way it will lose too much volume. However, if it's styled in a neat wave, a straight cut bob will look really big. Janewarie Jones appreciated the hairstyle and used it to accentuate her refined, feminine look.
The curly hairdo can be styled not just hair-to-hair, as with Jenjuri. Stylists also offer a more relaxed version for every day
To get a light and stylishly carefree effect, first wash your hair with curly hairdryer shampoo and don't forget the conditioner
Then towel dry tousled hair gently
Apply a styling product and distribute it evenly over the entire length of your hair.
Lightly knead the curls with your fingers and blow-dry with a hairdryer and diffuser
Your head should be tilted down and the air should be directed upwards
To make the curls more defined, use styling wax. Take just a bit of it, grind it in your palms and use it to separate the individual locks.
Asymmetrical bob by Marion Cotillard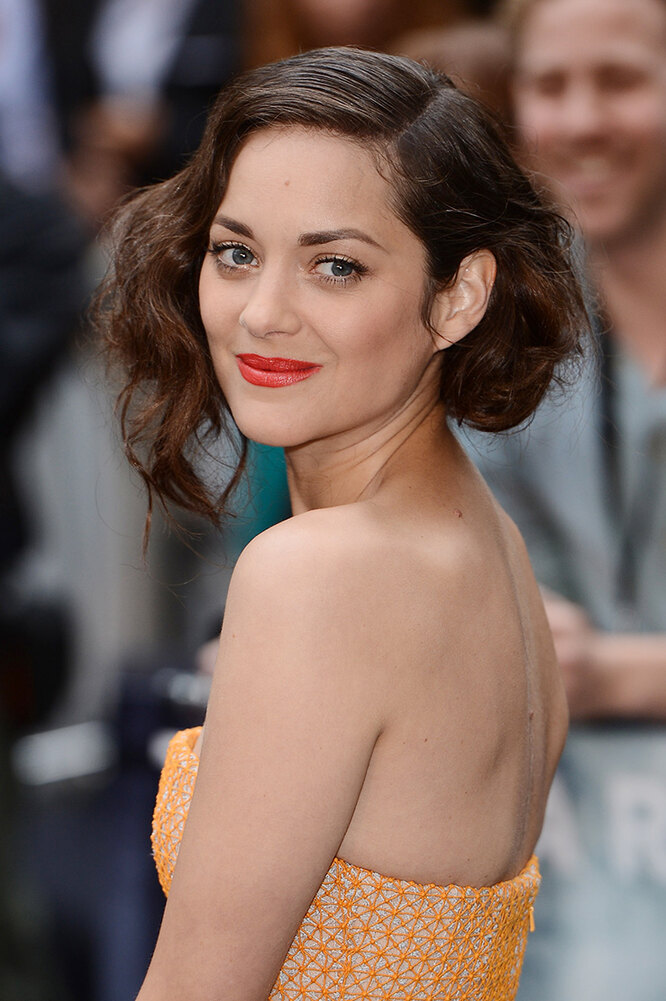 An asymmetrical bob suits any face
This asymmetrical bob is perfect for the actress' stiff and curly hair. It looks playful and playful and highlights the beautiful heart-shaped shape of Marion's face. However, it's a great look for any face thanks to its amazing ability to soften the angular cheekbone line if necessary, or, conversely, to make a round face look more graceful and elongated.
Medium length + Emilia Clarke ombré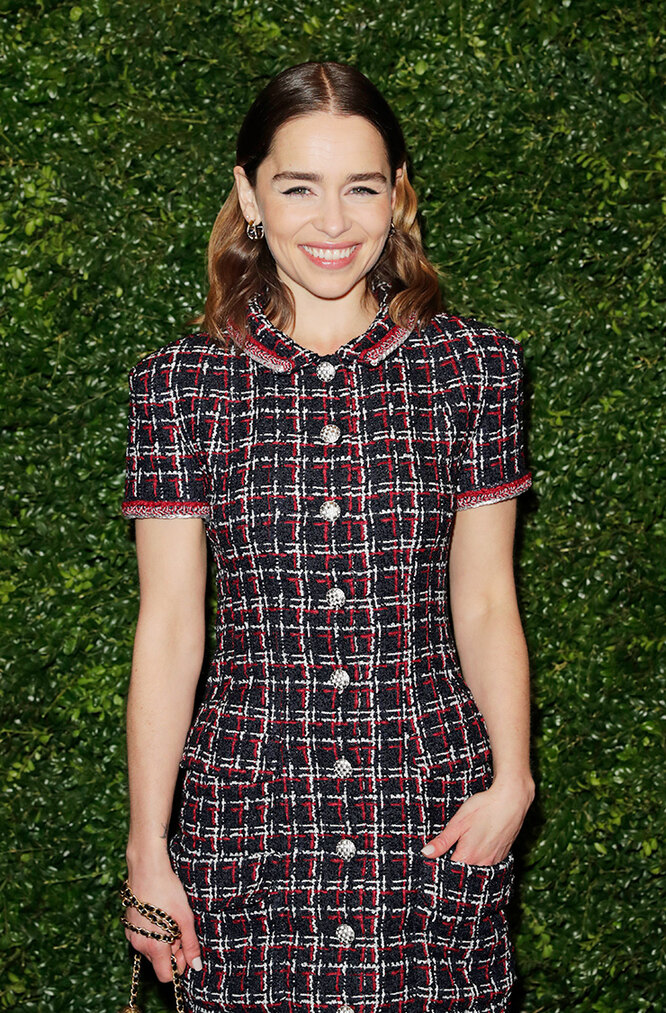 The secret to a lively, dynamic look is to dye it in different shades
This is a very practical and versatile haircut for wavy and thick mid-length hair. Note the interesting way Emilia's hair is styled: the hair at the roots is parted in a straight parting and smoothed with gel, while the remaining length is curled in waves and tucked behind the ears. Such a style would look original and elegant at the same time, but you should be wary of it if you have wide cheekbones.
Cascade + balayage, like Robin Wright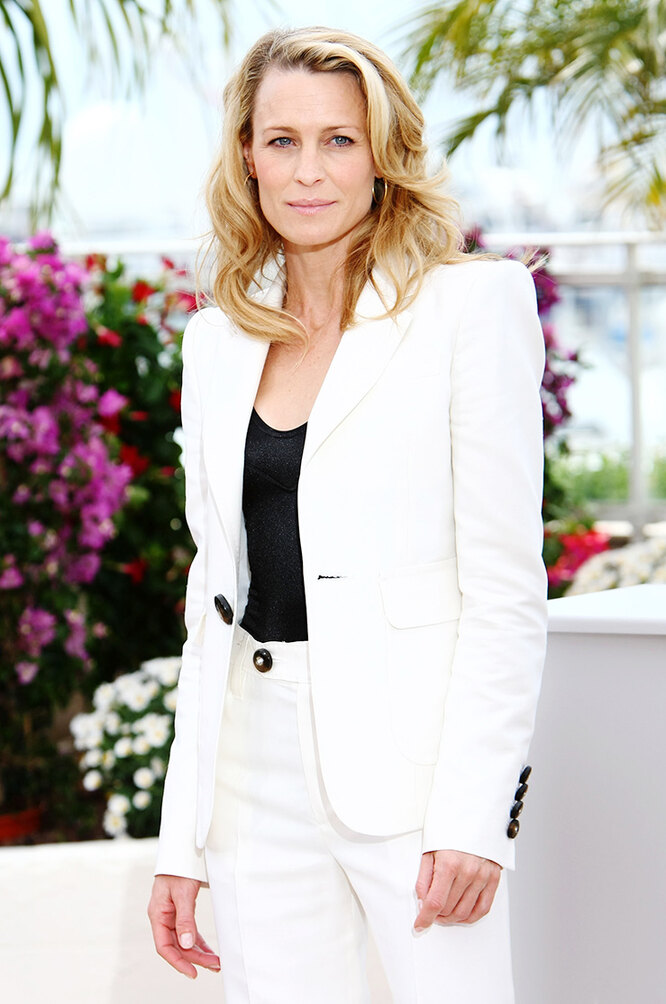 The layered cut and dye with blonde highlights can help you look younger
The formula for an incredibly rejuvenating haircut! Check out Robin Wright. Her stylist cut the actress' hair in layers and gave it a light shimmer on the blonde. This technique refreshes the face – the skin looks healthier and more radiant, and the hairstyle is more lush.
What does curly hair mean?
Curly hair is the most demanding hair type. The twisted structure causes brittle patches in the hair fibre and, due to increased porosity, the strands tangle easily.
What haircuts are suitable for curly hair?
Elegant mid-length curls accentuate the feminine silhouette. The mid-cut looks great with a variety of fringes. A bob is perfect for soft and fine medium-length waves. For tougher hair, a mid-length cascade or staggered cut is best.
What is the difference between wavy and curly hair?
In wavy hairs, division is irregular (cells are formed on different sides in different numbers). The section of the hair is oval in shape. Curly hair grows first to one side and then to the other, because the cells form alternately on different sides of the hair.
Why does curly hair straighten?
Inappropriate care If you overdo it with nourishing masks and leave-in conditioners, remember that they can weigh hair down and cause the waves to straighten. Unsuitable cleansing can also make curls straighten – if you don't cleanse your scalp properly and don't wash the stylings out of the lengths, you'll gradually get straighter hair.